Today is the trend of caption. If you are wishing your loved ones, and not adding Happy Birthday caption in it, then you are doing something wrong. Moreover, when you share a photo of your loved ones on their birthday, then make sure that you add 'Happy Birthday caption' which will strengthen the bond between you and show that person how much you care for them.
If adding Happy birthday caption on your status can make the day for your loved ones, then why not to utilize them on your best friends and family member's birthday?
Happy Birthday Caption
Due to the higher use of social media platforms, every person receives tons of messages on his birthday via various platforms. Various birthday wishes are left unnoticed because they are very generalized. That's the reason why I have made the best happy birthday captions for you to select as per your need. Caption can be used individually as well as with some emotional photos of your dear ones. Let us begin with some happy birthday captions which are made for best friend, sister, brother, dad, mom and many more relatives.
Happy Birthday Caption for Best Friend
Everyone has some special friend in your life who is with you in good as well as bad times. You have thousands of memories created with your best friend during your school and college time. But what special are you planning for your best friend? You may give him some special gifts, but to make him realize how special he is for you, Happy Birthday captions for best friend will work out for you. Bond of friendship is a mixed bond that contains love, fun, deep talks, sharing life secrets and many more. Given below Birthday captions for best friend are designed considering it.
Best friend: someone whom you can be yourself with, someone who you can have pointless conversations with, someone who still likes you even when you're weird, someone who forgets to buy you a birthday gift…that's why I came up with this. Happy birthday my best friend!
Happy birthday to my best friend! We are such a great team: I am smart, good-looking and talented and you are great at being my friend!
"I promise that the more birthday candles you blow, the more I will be here for you to celebrate every special event in your life. Happy birthday!"
"To the best friend I have ever known, here's wishing you a joy-filled birthday with memories galore!"

Happy Birthday Caption for Sister
The funniest, loving and caring personality in your life is your sister. She has spent quality time being your sibling and knows your secrets too. She is ready to care for you, play with you, trouble you, tease you, cook for you and what not. So, let's make the upcoming birthday of your sister very special. We have some emotional and heart touching happy birthday caption for sister to express your love for that cute girl.
This list contains various types of birthday captions for sister (small and elder sister), etc So, select the best caption that suits your relationship.
There is no better sister that I could dream up. You are my best friend and partner-in-crime. Life would be dull without you. Happy Birthday!
Sisters like you are like beautiful diamonds: Only the fortunate have them. Wishing you a happy and prosperous birthday.
God gave me the best when He gave me you. Happy Birthday to the sweetest sister ever
You're a beautiful person, a loyal friend, and such a special sister. Thank you for bringing so much joy and laughter into my life. I hope you have a wonderful birthday!

Happy Birthday Caption for Brother
Brother teaches his siblings about real-life values which is usually the responsibility of the elder brother. He is like the decision-maker of family after his father. Brother makes sure that everything is well and fine in a particular house and if you have a brother, you are so lucky to have someone who will love you the same as your parents and will never express his feelings.
When he is with you, you will feel the warmth like being with your father. You can send a happy birthday Caption for brother on facebook or WhatsApp along with a loving photo of you together to make him feel special.
You are such a great role model for every brother in the world because you are so loving, caring, protective, and supportive. I wish you, the best brother in the universe, a very happy birthday !!
May your life be filled with sweet moments, happy smiles and blissful memories. May this day give you a new beginning in life. Happy birthday dear brother.
I think you are the world best brother. You are an awesome friend, guide and teacher in my life. Thanks for being a wonderful brother. On this special day, I wish "Happy Birthday" and God bless you.
Wishing my brother a very happy birthday, it is a special day not just for you but for both of us. Enjoy the day.

Happy Birthday Caption for Dad
You are too busy in your daily life, spending time with friends, relatives and celebrating the birthday's of many people in real life as well as social media. But in this hurry, one person is left out. Guess who?  your Father. He is consistently working hard to make your and your family's life better. Always starving to give the best lifestyle for his family members.
So, making this birthday special by sending a happy birthday caption for dad along with some childhood photo with him. This will surely bring tears in his eyes.
All I wish for you is that we get to spend more time together, that I can have more bonding time with you and that you keep smiling your happy smile, enjoy your day!
Happy birthday to you, dad, just know that I love you and that I would not know where I am right now if you are not there for me to guide me through it all.
Daddy, your unconditional love has helped me to feel safe, warm and secure. Thank you for everything, Happy Birthday!
Dear dad, thank you for showing me how great the world is. I may need quite a lot of tips from you as I go on and face the challenges in life, so thank you in advance. Happy Birthday!

Happy Birthday Caption for Mom
Mom or mother is that person in your life who wants her child to get all happiness in his life without expecting anything. Many a time, we forget to thank her for all she has done for building a strong foundation of your life. Happy birthday caption for mother are specially designed to express mom-child bond in the best possible way. Let us have a look at some selective birthday captions for mom.
Dearest mom, you presented me my life, hundreds of moments of warmth and joy. You taught me to be a wise woman and a good person. Your role in my life can not be overestimated. Happy Birthday!
Only a super mom can do everything you do and still look amazing every day! Happy birthday to a mom who just keeps getting younger at heart.
Mom, every year you win the prize: "The best mother in the world." No one can replace you in my heart. You are the most important woman in my life. Happy Birthday!
Mummy, I remember how you brushed my hair, kissed my cheeks and read fairytales every evening. You made my whole life a beautiful, happy story, I can't be grateful enough for this. You are my everything. Happy Birthday.

Happy Birthday Caption for Husband
In this Fastrack city lifestyle, we hardly get some quality time with your very close person. You are too busy in daily stuff and caring for family that you pay less attention to your husband. And just giving a gift to your husband is not enough. You need to emotionally connect with him to have some quality time together. This thing can be achieved by Happy Birthday Caption for husband which can be written on a lovely greeting card or even cardboard to make.
Your partner is always trying to keep you happy by providing each and everything you want. Now its time to use some special happy birthday caption for husband which will please him.
Dear husband, words to describe you: Wonderful, amazing, unique, incomparable, handsome, strong, incredible. I could go on forever. Wishing you a blessed birthday.
When a kind-heart person gets into a relation, that relation outshines all barriers. I'm blessed with a husband of the same kind. Love you and happy birthday dear husband.
I never thought that I would get such a wonderful husband like you. May your dreams be fulfilled. Wishing you a very Happy Birthday.

Happy Birthday Caption for Wife
You can never dare to forget your wife's birthday…just saying. You always try to impress your wife in some or the other way, that maybe with many gifts or something else. But today I will tell you one special thing that can impress your wife and strengthen your bond. You can use these Happy Birthday Caption for wife on self-made greeting cards or some other creative cardboard and paste it in her room. This surprise will be the best gift for her on this special day.
I know you have a lot of things to do, so I'm going to go ahead and take them off your hands and do them for you. Happy Birthday – I love you!
Very few people meet their soul mates, but I have been fortunate enough to marry this special someone! I hope you have a beautiful birthday. Happy birthday, dear!
I wake up every morning and thank the good Lord for bringing you into my life. Jerry Maguire said it best 'you complete me'. Happy birthday, my beautiful wife. I love you always and forever
When you close your eyes and make a wish, wish for a long life full of love and happiness. You certainly deserve it. Happy Birthday, from your Husband.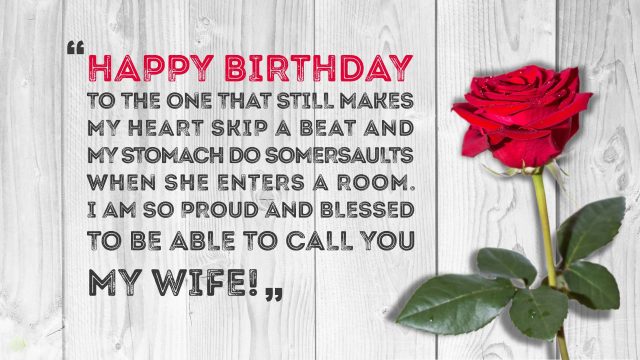 How was this article on "Happy Birthday Captions?" do let us know. And If you have some special quotes or birthday caption for dear ones, do comment below in the comment section.