As soon as the birthday month gets started, everyone gets excited for their birthday celebration. Everyone dreamed great Idea from the school days to do when grown up. There would be list of amazing things to do on birthday. You always wanted to celebrate your birthday the way your dreams from the childhood. Along with time your mind grows up and add something different in the to do list for your birthday. Still if you confused how to make your birthday memorable then here are some amazing ways to celebrate your birthday.
Its your Birthday and you are excited about it. You might have some plans to celebrate your birthday with your friend, family etc. But still you would like to add value in your birthday celebration and you are damn excited to know amazing ways to celebrate your birthday, right?
How to Celebrate Your Birthday?
I am very excited to disclose the best ways to celebrate your birthday. Firstly, let me clarify that 'celebrating' your birthday doesn't necessarily mean spending lots of money or having a party or any frivolous 'loud' activity to celebrate it. It can be something as simple as being alone in your house on your birthday, or going to a church or mosque or any other religious house, or any such quiet event. Lets check out all the crazy and amazing ways to celebrate your birthday and make it memorable one.
1. Feel Like a Kid Again
We change the way of birthday celebration as we grow up. Whats a big deal in becoming child once again? 😛 Lets try celebrating your birthday as a child. This could be the cool idea to make your birthday wonderful. Just feel like a kid and remember those days you used to celebrate in school days. Everyone want to live in childhood as it was awesome without any fear and tensions. Life was simple and quite wonderful, so you may try to celebrate your birthday like you used to celebrate.
2. Long Drive with Best Friends
Its fun to go for long drive with your best friends, but it feels special when you go for long drive with your best friends on your birthday. Make a road trip and celebrate this birthday in a new way. Having crazy best friends is blessing, you must not miss this on your birthday. Plan for the road trip and enjoy the long drive with your crazy and lovely friends.
3. Visit a Theme Park with your Friends

Many ways to celebrate your birthday, but this could be the cool Idea. Visiting a theme park with friend is a quite common way of celebrating birthday. But you can enjoy, celebrate birthday and make memories with your friends. Check out the theme parks near you and book the tickets to make this day more special. Add value to the birthday and store more memories, spend time with friends etc.
4. Arrange small family dinner
Many of you are damn excited to celebrate birthday. For most of the people, celebrating birthday means to have party and having fun with friends. Arranging Family dinner also gives you happiness and you earn more love from your family members. Instead of spending money in party and other things, Give your time to your family and you will come to know what true love is. So this could be the cool Idea to arrange a small family dinner on your birthday.
5. Plan a Themed Party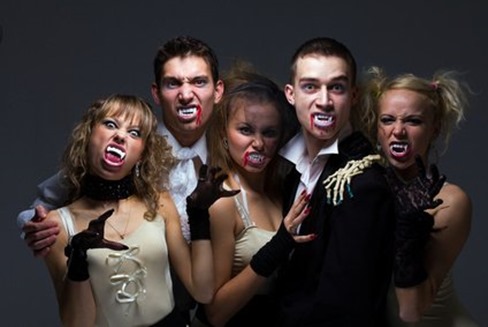 When you and your friends are more crazy about celebrating your birthday, then you can go for arranging themed party. The only way which I can see to make any party fun and awesome is by having a theme. Yes, give it a theme. Plan out a themed party that is unique and fun.
6. Celebrate with Nature
Have you ever imagined to celebrate your birthday in Forest, Mountains, Rivers Sides, Valleys etc?  If you din't then its great idea to celebrate your birthday this year. You are already thinking to celebrate this birthday differently so this would be the best Idea. Everyone used to celebrate at home, hotel or hall etc. and this is completely unique idea. Think out of the box, think unique and then do this one. Take your camps to the place where you are only surround by nature's beauty with your friends. This is probably the best unique way you can celebrate your birthday.
7. Go for Shopping with your partner
If you are a girl, then yess, shopping would be the great Idea of celebrating birthday. For all those people who are busy thinking to shop but not able to go with their lazy butts, this is the time when you have got the reason to go for shopping. So on your birthday go out and shop all your favorite things.
8. Go to the dream Place/ Favorite Place
Once you dreamed about the place and wished to visit it. This is the right time and best excuse to go and visit your favorite place or your dream place. This can a country or any city or any place where you wish to go every time and you fail. Celebrating your birthday at your dream place would be the best thing happen to your in this year. This is unique and amazing way to celebrate your birthday.
9. Celebrate with NGO
What can be the better than spending your day with NGO. Be helping hand and participate to become a good citizen. You can use your time in better way to spend your special day with those people.
10. Volunteer at a charity
Is there a children's home that you know of? Or any charity or cause close to your heart? Your birthday might be the right time to visit them and give them some of your time. This will add value to your birthday and it will be more special and the best one.
I hope you liked our list of Ways to celebrate your birthday and you found it helpful. Make your birthday special, memorable and awesome. Spend the day in your own way and here are some suggestion you might find useful. Wish you many many happy returns and stay blessed 🙂 !!!