30+ Happy Birthday Wishes in Hindi
Happy Birthday Wishes in Hindi:  In India, the celebration commences with Happy Birthday wishes in Hindi or any native language from where the person belongs. The rituals of putting a 'Tika' on the forehead and thanking God for giving a wonderful life is still followed by many people. In this dude era, best birthday is remembered with a number of cakes that are cut and amount of celebration done along with best friends, girlfriend, boyfriend or husband, wife and family – brother, sister, mother, and father. Birthday wishes in Hindi given by Mom and Dad are preserved for the lifetime in our mind. Wishing someone with just Happy Birthday can make the most common wish but if you add some of the words and speak your heart out about what you feel whether in Hindi, English or in any native language like Tamil, Telugu, Malayalam, Marathi, Punjabi etc, the person would feel so loved and adorable that if you would come in front of him, he would hug you tightly. Therefore sending some special, cute and best wishes for Happy Birthday in Hindi is much needed. If you are on the verge of searching some fantastic happy birthday wishes in Hindi then we would just recommend going through our Best birthday wishes collection.
Happy Birthday wishes in Hindi
Birthday ki toh party honi chahiye,
wish to morning ki bhi hoti hai.~~~~~HAPPY BIRTHDAY Dost~~~~
Muskurati Rahe Ye Zindgi Tumhari,
Ye Dua Hai Har Pal Khuda Se Hamari,
Phoolo Se Sazi Ho Har Raah Tumhari,
Jis Se Mehke Har Subah Aur Shaam Tumhari.
~~~~HAPPY BIRTHDAY~~~~~..
Suraj roshni le kar aayaa,
Aur chidyon ne gaanaa gaayaa,
Phoolon ne hans hans kar bolaa,
Mubarak ho tumhaara janam din aaya!
Janmdin k shubh avsar pr,
Bhent karu kya upahar tmhe,
Bas ese hi swekar kr lena,
Lakhon lakhon pyar tumhe…
Janamdin ki bahut bahut badhai tumhe…
Must see: Top 10 most funny birthday wishes
Tamnnao se bhari ho aapki jindagi,
Khwahishon se bhara har pal,
Daaman bhi chhota lage,
Itni khushiya de aapko ye naya aane wala kal!!
Wishing you a Very Fantastic Happy Birthday,
and May God Bless You today a Life of Happiness Mode,
and a Smiling Mode, Have Fun & Enjoy.
~~~~HAPPY BIRTHDAY~~~~~
Let the exciting things happen today,
Air full of flying balloons
Cheeks full of cakes & kisses,
and let me Love & Hug you a little louder today.
Stay Happy and Blessed,
Enjoy your Birthday.
Janamdin Hai Aapka Sochta Hu Uphar Kya Du,
Sochta Hu Ish Varsh Naya Kya Du,
Gulab Se Badhkar Koi Phool Hota To Deta Jaroor,
Magar Jo Khud Gulab Hai Use Gulab Bhi Kya Du.
HAPPY BIRTHDAY
Every Candle On Your Cake
Is Another Year I've Been Lucky
To Know You,
Happy Birthday
For To A Wonderful Person.
hum ap k dil mai rehte hai , isiliye har dard sehte hai , koi hum se pehle wish na krde apko,
isiliye advance mai HAPPY BIRTHDAY kehte hai
Happy Birthday Wishes in Hindi Font
Many of us are trying to wish their friends, Family member or any loved one with special Hindi Birthday wishes. So why not to try with these Happy Birthday wishes in Hindi font? It makes an impression when you are wishing in your own language. It's an honor to be Indian and we all love the Hindi language. We feel proud to wish in the Hindi Language than any other language. These Hindi wishes touch our soul and give a special feeling. We have the closest person in our life after our parent is our love. Happy Birthday Wishes in Hindi for Girlfriend/ boyfriend are here. These are sharable with your life partner. So share these happy birthday wishes in Hindi font with birthday boy/girl and make them feel more special.  
हस्ते रहे आप करोड़ों के बिच,
खिलते रहे आप लाखों के बिच,
रोशन रहे आप हज़ारों के बिच,
जैसे रहता है सूरज आसमान के बिच…
जन्मदिन की शुभकामनाये!
हम आपके जन्मदिन पर देते हैं यह दुआ,
हम और तुम मिलकर, होंगे कभी ना जुदा,
जीवनभर साथ देंगे अपना है ये वादा,
तुझपर अपनी जान भी देंगे, अपना है ये इरादा…
सूरज की किरणे तेज दे आपको,
खिलते हुए फूल खुशबू दे आपको,
हम जो देंगे वो भी कम होगा,
देनेवाला जिंदगी की हर खुशी दे आपको…
जन्मदिन मुबारक !
अपनी बीवी का जन्मदिन न भूलने का सबसे अच्छा तरीका ये है,
की आप एक बार उसका जन्मदिन भूल जाये…
फूलों ने अमृत का जाम भेजा है,
सूरज ने गगन से सलाम भेजा है,
मुबारक हो आपको आपका जनम दिन,
तहे-दिल से हमने ये पैगाम भेजा है…
स्वर्गलोक से इंद्रदेव,
वैकुण्ठ से विष्णुजी,
कैलाश से महादेव,
ब्रह्मलोक से ब्रम्हाजी,
और पृथ्वीलोक से रोहन,
आपको जन्मदिन के लिए शुभकामना देते है…
जिस दिन आप ज़मी पर आये ये आसमाँ भी खूब रोया था,
आखिर उसके आँसू थमते भी कैसे,
उसने अपना सबसे प्यारा तारा जो खोया था,
हैप्पी बर्थडे!!
हम आप के दिल मैं रहते है,
इसलिए हर दर्द सहते है,
कोई हम से पहले विश ना कर दे आपको,
इसलिए एडवांस मे हैप्पी बर्थडे कहते है…
चाँद से प्यारी चाँदनी,
चाँदनी से भी प्यारी रात,
रात से प्यारी ज़िन्दगी,
और ज़िन्दगी से भी प्यारे आप,
हैप्पी बर्थडे…
आसमान का चाँद तेरी बाहो में हो,
तू जो चाहे वो तेरी राहों में हो,
हर वो ख्वाब हो पूरा जो तेरी आँखों में हो,
खुश किस्मती की हर लकीर तेरी हाथों में हो…
Happy Birthday Wishes in Hindi Images
Sharing Images on someone's birthday with Birthday wishes in the Hindi language will make them happier. You are living in India, and you must feel proud of our national language. Getting birthday messages and images from the loved one is a blessing. Surprise your boyfriend/ girlfriend with these awesome happy birthday wishes in Hindi. Get some awesome birthday wishes in Hindi for your friend here. Follow these Hindi Birthday wishes Images and make your day beautiful 🙂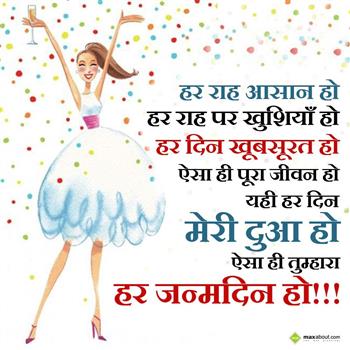 Happy Birthday Wishes in Hindi Font |Janamdin Mubarak in Hindi
Janamdin Mubarak in Hindi: Being an Indian and Hindi being the national language, loads of Happy Birthday wishes in Hindi are given by friends, family members, and relatives. The best wish certainly leaves an unforgettable mark of joy in the mind of the person having Birthday. All the time you be with the person, know his behavior and you love the company. So, on his or her birthday, if you praise the person with what you really feel then that's where you will be remembered forever. Happy Birthday wishes in Hindi are to be given for a similar purpose. If you wish your birthday buddy in Hindi then this would make him a lot more attached as that's the language that you both have been communicating. People having Birthday get enchanted to see loads of cute and best birthday wishes in Hindi. Friends should really try hard to make their birthday buddy's day special. One awesome way is to send your best friend, boyfriend or girlfriend some Happy Birthday wishes in Hindi so that they can get mesmerizing experience on their special day.
 हस्ते रहे आप करोड़ों के बिच,
खिलते रहे आप लाखों के बिच,
रोशन रहे आप हज़ारों के बिच,
जैसे रहता है सूरज आसमान के बिच…
जन्मदिन की शुभकामनाये!
 

हम

आपके जन्मदिन पर देते हैं यह दुआ,


हम

और तुम मिलकर, होंगे कभी ना जुदा,
जीवनभर साथ देंगे अपना है ये वादा,
तुझपर अपनी जान भी देंगे, अपना है ये इरादा…
 सूरज की किरणे तेज दे आपको,
खिलते हुए फूल खुशबू दे आपको,


हम

जो देंगे वो भी कम होगा,
देनेवाला जिंदगी की हर खुशी दे आपको…
जन्मदिन मुबारक !
 फूलों ने अमृत का जाम भेजा है,
सूरज ने गगन से सलाम भेजा है,
मुबारक हो आपको आपका जनम दिन,
तहे-दिल से हमने ये पैगाम भेजा है…
 स्वर्गलोक से इंद्रदेव,
वैकुण्ठ से विष्णुजी,
कैलाश से महादेव,
ब्रह्मलोक से ब्रम्हाजी,
और पृथ्वीलोक से रोहन,
आपको जन्मदिन के लिए शुभकामना देते है…
 

हम

आप के दिल मैं रहते है,
इसलिए हर दर्द सहते है,
कोई

हम

से पहले विश ना कर दे आपको,
इसलिए एडवांस मे हैप्पी बर्थडे कहते है…
 चाँद से प्यारी चाँदनी,
चाँदनी से भी प्यारी रात,
रात से प्यारी ज़िन्दगी,
और ज़िन्दगी से भी प्यारे आप,
हैप्पी बर्थडे…
 आसमान का चाँद तेरी बाहो में हो,
तू जो चाहे वो तेरी राहों में हो,
हर वो ख्वाब हो पूरा जो तेरी आँखों में हो,
खुश किस्मती की हर लकीर तेरी हाथों में हो…
 सूरज रोशनी लेकर आया
और चिड़ियों ने गाना गाया
फूलों ने हंस-हंसकर बोला
मुबारक हो तुम्हारा जनम दिन आया !
 हर राह आसान हो,
हर राह पे खुशियाँ हो,
हर दिन खुबसूरत हो,
यही हर दिन मेरी दुआ हो,
ऎसा तुम्हारा हर जन्मदिन हो !!!
It feels so great to see our friend overjoyed on his birthday. That million dollar smile on his face gives the feeling of love enriching the bond that you both have been sharing since months and years. Giving him a wonderful gift along with these superb happy birthday wishes in Hindi would make his day special and memorable. We have hand-picked the best birthday wishes in the Hindi language from all over the web and local collection. So we ensure you would find some real gems in this collection of ours. We hope you liked the article and the birthday wishes. If so then do share this and spread this with your friends and family.